My monthly exclusive project DEVOTION!!! has came to it's 1st Anniversary! After eleven episodes of pure underground sounds, ten massive guestmixes and ten great artists' collaborations and DEVOTION project being as popular and passionately followed as i've never dreamed it will be, it's now time to celebrate! This month, DEVOTION will spread it's passion on two fields:
• N-tchbl - DEVOTION Episode 012 1st Anniversary on Pure.FM Radio w/ SHIVA (Lebanon) •
This month i have the greatest honour to be supported by one of my biggest influences, one of the best female DJs on the planet, and certainly - the biggest Queen of darkened underground scene -
SHIVA
!!!
I'm sure she needs not too many words, everything that can be said about this passionate Lady is possible to be heard in what she does the best - her music - and i'm sure that, with this guestmix i've got for DEVOTION Anniversary i have one dream less to fulfill in my life and i'm sure many of you feel the same due to lots of demanding e-mails and cravings for hearing the two of us playing together in some way, so.. this is the least we can do for you now!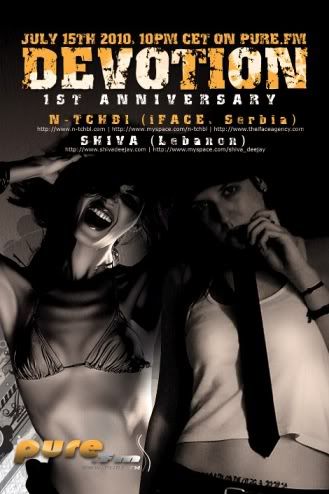 DOWNLOAD
N-tchbl - DEVOTION 012 1st Anniversary [July 2010] Exclusive for Beattunes.com

Genre: Progressive House | Progressive
Time: 150min
Quality: 192kbps
Available Exclusively on:
Beattunes.com
!!!