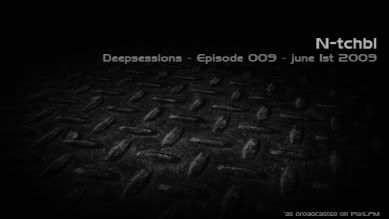 Broadcasted on 1st of June 2009.
on Pure.FM
I'm not planning on sharing tracklists anymore,
this is some kind of a last time.. cuz i wanna show a
HUGE
respect to a couple of artists i played this time,
particulary
Krisztian & Hassan Rassmy
.. as they deserved it by being GREAT producers and great friends.. and great people overall :)
N-tchbl - Deepsessions - Episode 009 - 1. june 2009.
Genre:
Deep and Dark Progressive
Lenght:
58min
Quality:
192kbps
Tracklist:
1. Jake Benson - I'm Alone feat. K-Lee (original mix)
2. Fady Ferraye - A Girl With A Cello On A Bike (original mix)
3. David Kassi - Paralyzed In Heaven (Big Al & Dr Tang Re-Dub)
4. Dj Taucher - Just Like You (Nicholas Van Orton mix)
5. Topo & Mirel J - Voice From The Underground (Robert K & Krisztian remix)
6. Freya - You Don't Know (Hassan Rassmy & Sarp Yilmaz remix)
7. Carl Jurgens - Tulip Sunset (original mix)
8. Faskil - Rezi (Bambaat Remix)
FREE DOWNLOAD - Click Here
2 sets more coming this month,
keep it dark.. keep it progressive!!!